Arctic Mermaids
Artwork details: gouache, 10 x 10 inches (25 x 25 cm), 2007.
These are the Arctic Mermaids - a rare form of mermaid specially adapted to the freezing seas of the arctic - huge and ungainly out of the water, compared to their skinny cousins from temperate regions, but graceful in the water, and of course they need the thick skin and layers of blubber to be well protected against the inhospitable temperatures, and probably against the Polar Bears, too...
Arctic Mermaids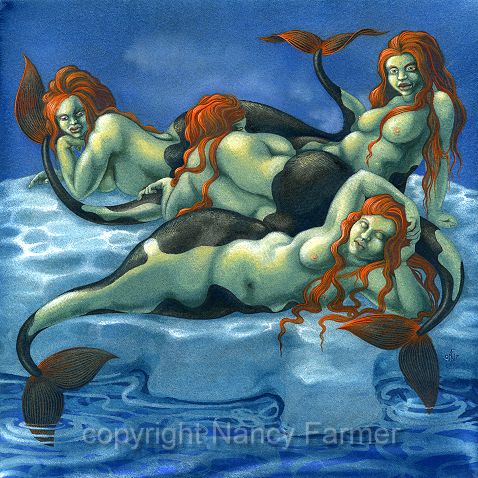 2007 seems to have been a very good year for Mermaids - I painted several paintings one after another of these fishy ladies, though the other paintings also included 'Maidmers' ungainly, but more practical if you think about it...

Maidmers on the Beach
Here is one of the 'Maidmer' paintings if you would like to take a peek.
All images and prints are © Nancy Farmer. Please email me if you wish to reproduce any of these images, or see my permissions page in the 'info' section.
Prints & Original Artwork
You can now buy prints of my work (and a few originals) in my Etsy Shop. If you would prefer to buy direct from me, or you cannot find what you are looking for in the shop, feel free to email me instead: mail@nancyfarmer.net. If you are interested in original artwork, I do intend to post a list of currently available artworks in due course, but I'm in the process of moving and re-building a main website, so for the meantime please also email me for more information on originals, and also commissions.