Gold Fairy 34
Artwork details: pencil and gold leaf, 8 x 10 inches (20 x 25 cm), 2007.
The gold fairies are a series of drawings done originally for the exhibition in Suffolk in November 2006, but they've grown as a collection since then. I've not run out of poses yet and they are a lot of fun to do. They are entirely in pencil - including all the background - except for the wings which are done in gold leaf.
Gold Fairy 34 - drawing by nancy Farmer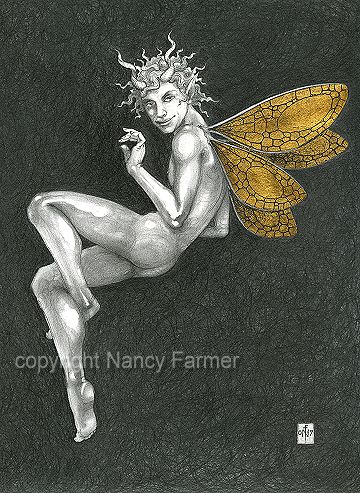 To add texture and life to the wings I have drawn into the gold leaf once it's applied to the surface. This is possible because I'm using acrylic gold size to stick the gold leaf to the paper and this stays sticky and somewhat soft, even once dry, so it's possible to drag a pencil through the surface. I then go over the surface of the gold leaf and the 'scribbled' pencil background with a cotton bud, and anywhere that the gold size has been exposed will pick up the graphite of the pencil and become quite as black as the rest of the pencil scribbling. In this way I can add a sort of shading effect to the gold leaf, which is otherwise a rather flat solid colour. I drag the cotton bud lightly around the surface of each if the individual wing segments, too, which scratches the surface of the gold leaf creating an almost 3D effect - unfortunately this doesn't really show up in the scans of the drawings as it needs the movement of light across the surface.
All images and prints are © Nancy Farmer. Please email me if you wish to reproduce any of these images, or see my permissions page in the 'info' section.
Prints & Original Artwork
You can now buy prints of my work (and a few originals) in my Etsy Shop. If you would prefer to buy direct from me, or you cannot find what you are looking for in the shop, feel free to email me instead: mail@nancyfarmer.net. If you are interested in original artwork, I do intend to post a list of currently available artworks in due course, but I'm in the process of moving and re-building a main website, so for the meantime please also email me for more information on originals, and also commissions.