The Marriage of Heaven and Hell
Artwork details: pencil, platinum and gold leaf, 30 x 23 inches (76 x 58 cm), 2007.
The Marriage of Heaven and Hell - whole picture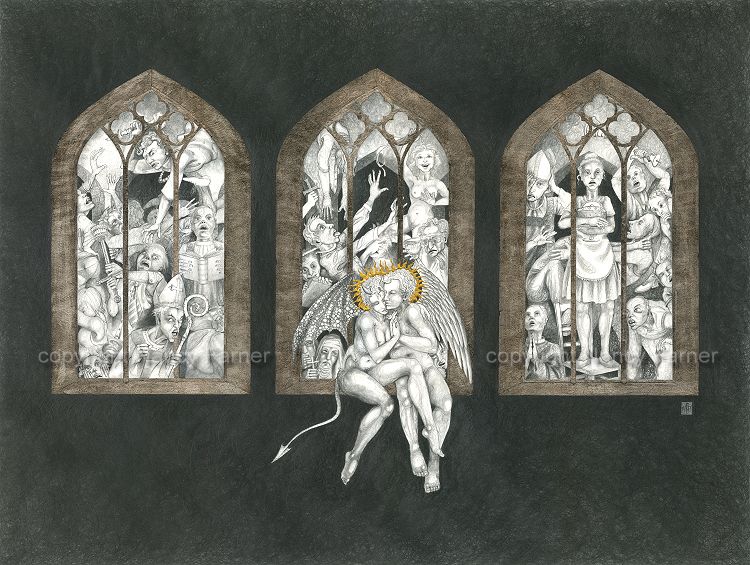 This drawing was done for an exhibition to celebrate the 250th anniversary of the birth of artist, visionary and poet William Blake, put together by Gallery Eight in Glastonbury for 22nd November - 2nd December 2007
The initial starting point was the title of William Blake's 'prophetic' book "The Marriage of Heaven and Hell". Blake rejected the established church, though not religion per se, seeing rather the church's views of 'evil' and the Devil as the imaginative, creative drive which the church would control and suppress. As Blake's 'voice of the Devil' declares: "those who restrain desire, do so because theirs is weak enough to be restrained".
So this drawing started as a kind of 'reconciliation' between Heaven and Hell, but its main subject is the anger, horror, alarm and confusion of the 'good' church-goers whose world is undermined because they no-longer have an enemy they can blame and rant against. There are outbreaks of violence, religious fervor, occasional nudity and general chaos...
The Marriage of Heaven and Hell - detail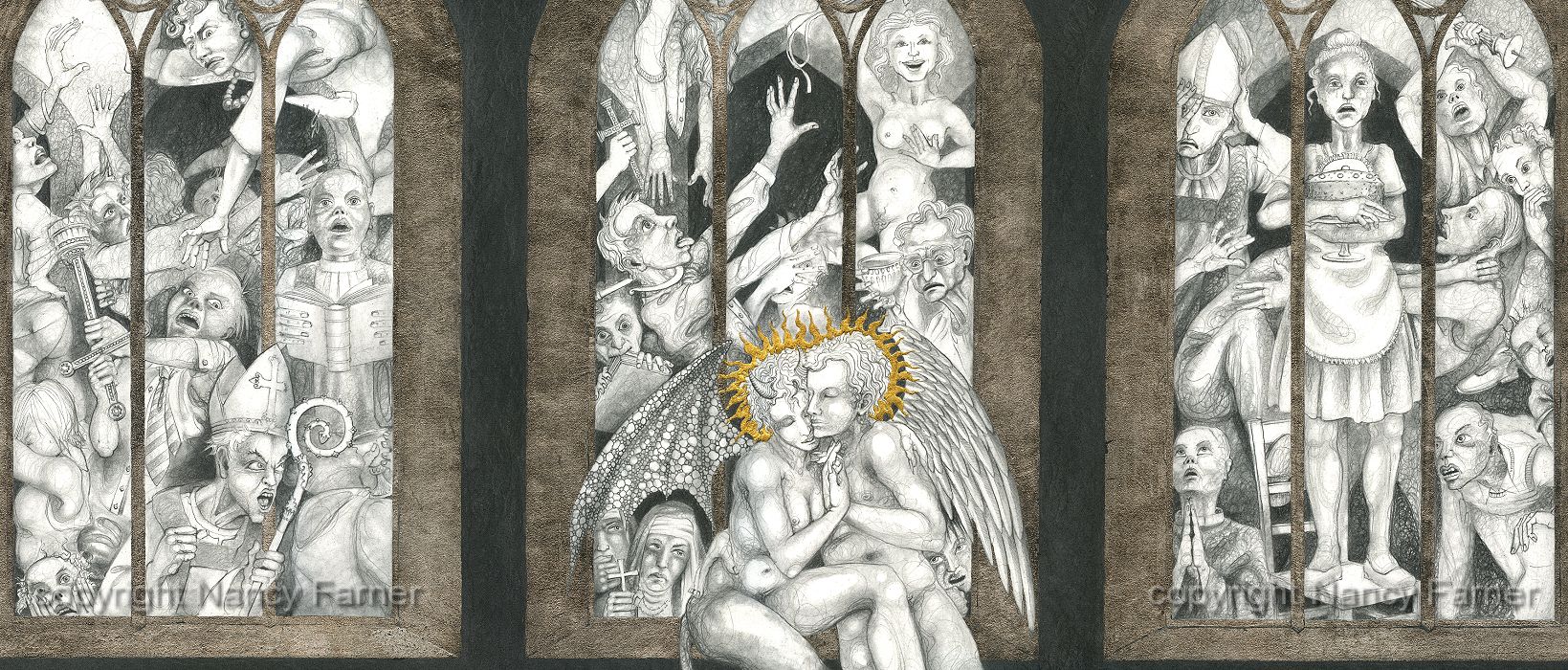 The three-part design and the use of precious metals was inspired by an idea that it should be reminiscent of something like an altarpiece. Foolishly and at a not inconsiderable cost (almost 4 times the price of gold leaf in fact) I bought a book of platinum leaf, largely on a whim because I had wanted to try platinum leaf on something, and it seemed a picture worthy of the extra expense.... Never again!!!.... I trained and worked for several years as a jeweller, before taking to painting, and I should have known better (having spent more than 4 years making jewellery in this unforgiving metal). The final result was good, but there will be no series of 'platinum fairies', sorry! (except maybe a few to use the remaining sheets of the stuff...).
All images and prints are © Nancy Farmer. Please email me if you wish to reproduce any of these images, or see my permissions page in the 'info' section.
Prints & Original Artwork
You can now buy prints of my work (and a few originals) in my Etsy Shop. If you would prefer to buy direct from me, or you cannot find what you are looking for in the shop, feel free to email me instead: mail@nancyfarmer.net. If you are interested in original artwork, I do intend to post a list of currently available artworks in due course, but I'm in the process of moving and re-building a main website, so for the meantime please also email me for more information on originals, and also commissions.