Poison Flower Fairies: Ricinus Communis, the Fairy of the Castor Bean Plant
Artwork details: Gouache, 13.2 x 19.5 inches (34 x 50 cm), 2012.
The fairy of Ricinus communis is a curious creature, not an ancient evil like the Monkshood Fairy, but rumoured to be assisting terrorists all over the world, sought by several international law-enforcement agencies on numerous occasions and never caught but once. Toxic, certainly, but dangerous? Guilty as charged? These things are less certain of this slippery and elusive character.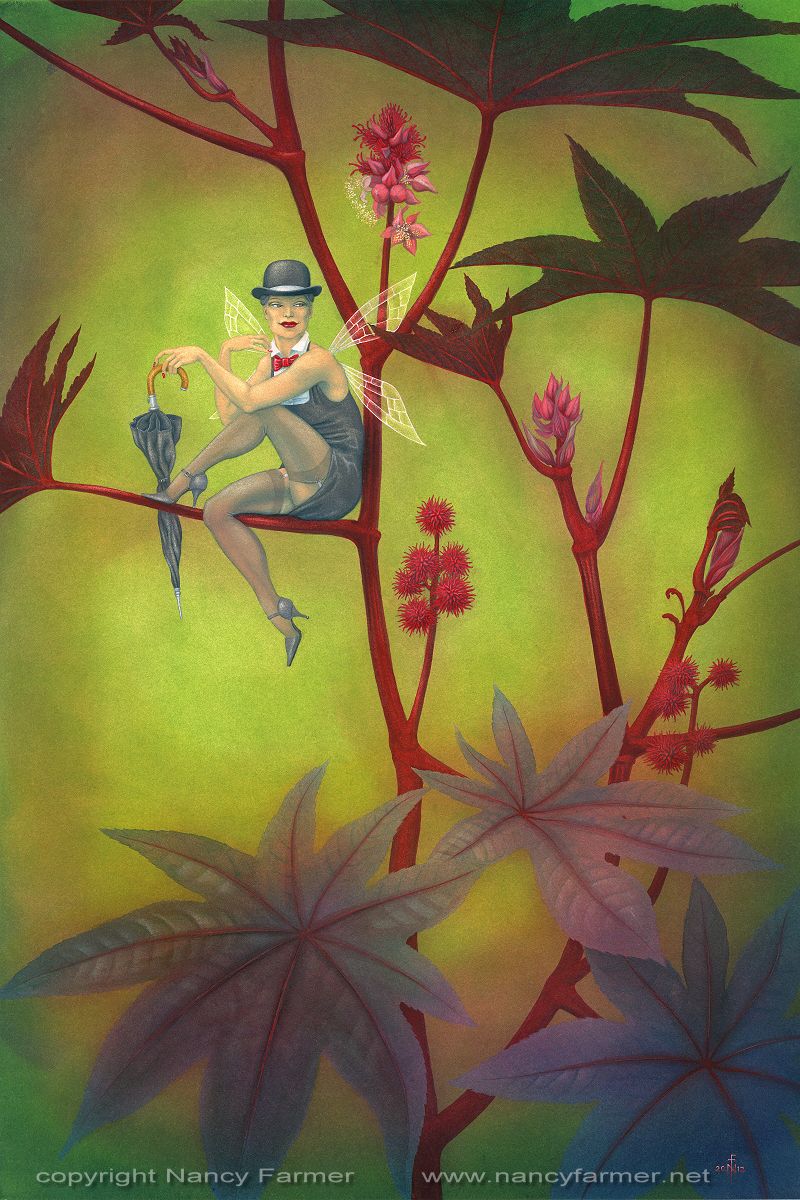 This fairy inhabits the stately Castor Oil Plant, beloved of the planters of municipal gardens, provider of tens of thousands of tonnes of castor oil every year, and, should one wish to bother to process the dregs of the beans after that, also the source of the deadly toxin Ricin.
Ricin gained its unenviable reputation in its use as the poison used to murder Bulgarian dissident writer Georgi Markov in London in 1978 in an incident apparently, and bizarrely, involving a weaponized umbrella.
A weaponized umbrella? well, really, have you ever heard the like since The Avengers? So the fairy in my painting carries not only her umbrella but has borrowed John Steed's bowler hat to go with it! The rest of her outfit has something of the cabaret to it, which did not seem entirely inappropriate for such an outlandish character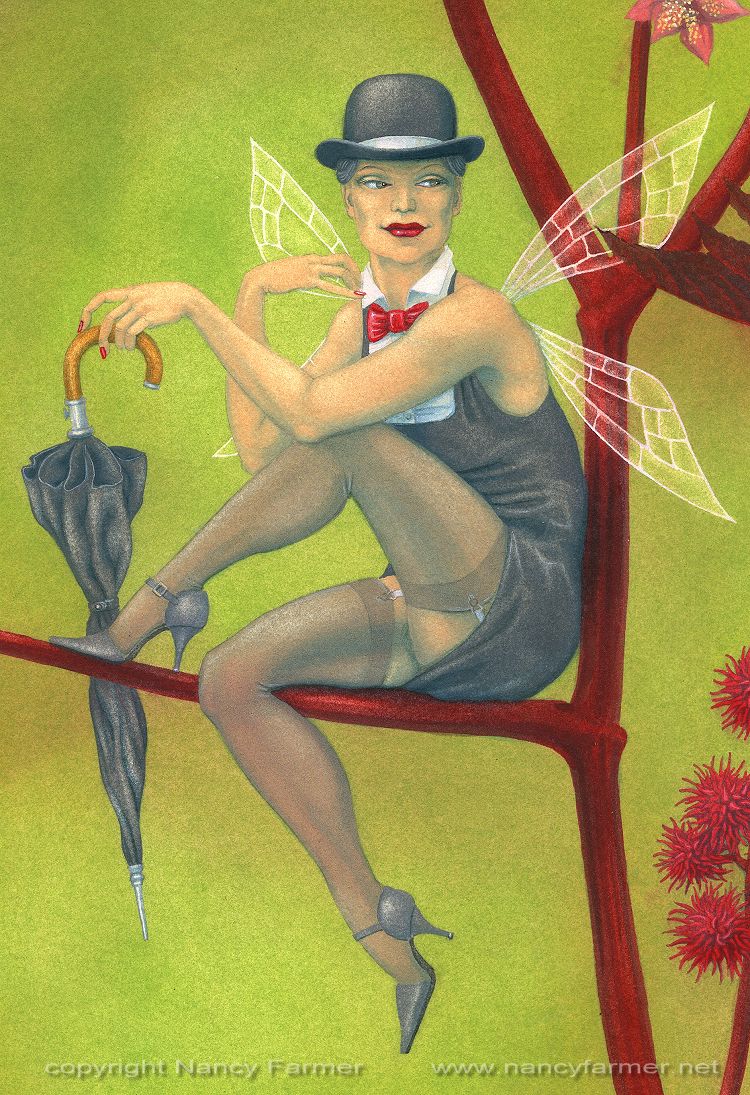 Everybody has heard of Ricin and that it's terribly dangerous. Well, it's terribly toxic, true, but also, as poisons go, apparently a very difficult poison to actually use: you have to put it into someone's bloodstream, not into, say, their cup of coffee (which would do for some of my other Poison Flower Fairies). The medical evidence suggests that ingesting it makes people throw up very quickly and thus generally gets rid of the poison. There is a fine article about Ricin, and its incidents and myths, by John Robertson on the Poison Garden Website here: http://www.thepoisongarden.co.uk/atoz/ricinus_communis.htm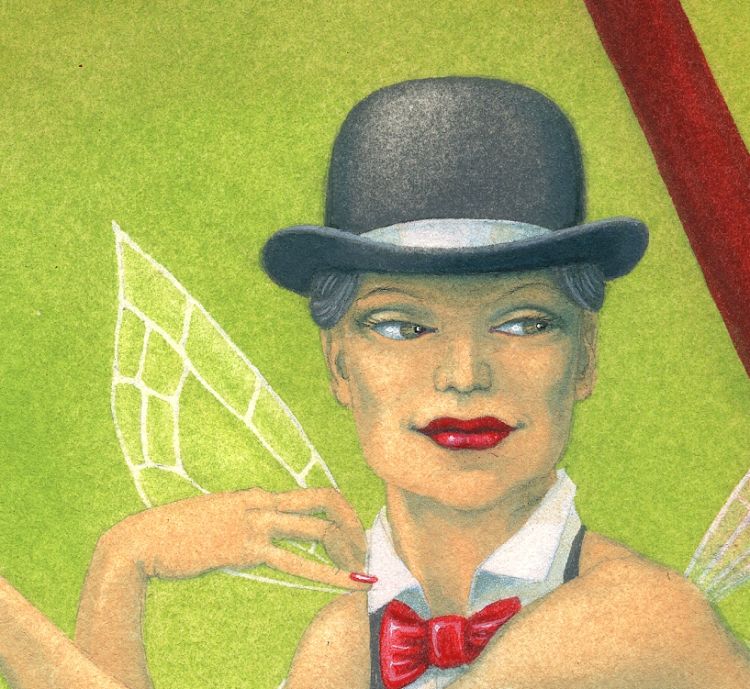 I've also found this: mention Ricin and several people will not only quote the umbrella incident, but also a very nasty terrorist attack in the Tokyo subway in 1995 - that wasn't Ricin at all but Sarin, a nerve gas. Quite different and not one of my plants, at all! To kill people on an underground with Ricin I imagine you might have to inject them, one, by one. And somebody would be bound to notice you doing that quite soon.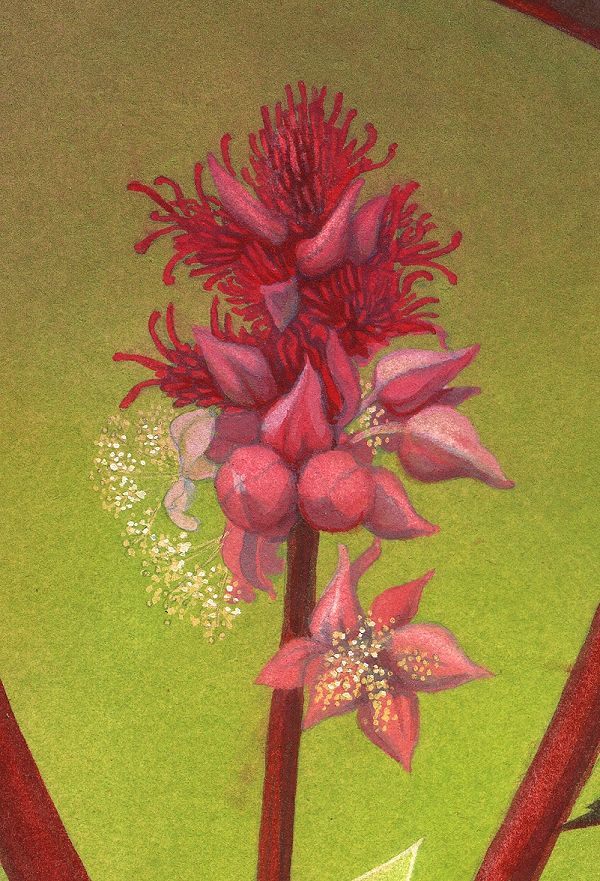 And I'm not joking about this plant being beloved of the planters of municipal gardens, either: once you know what it looks like you find those dark, glossy, spiky leaves poking out of the top of many an arrangement of garden annuals. I last saw it at a wedding a few months ago. It grows up quickly into a handsome plant, but in this climate never lasts the winter. It belongs in more Mediterranean climes, where it grows into a small tree. The thing is, if it's so dangerous, why are our councils planting it all over the place where the general public can get at it? The answer, of course, is that this culprit is more reputation than substance. So, here we have the Ricin Fairy, caught once and never forgiven!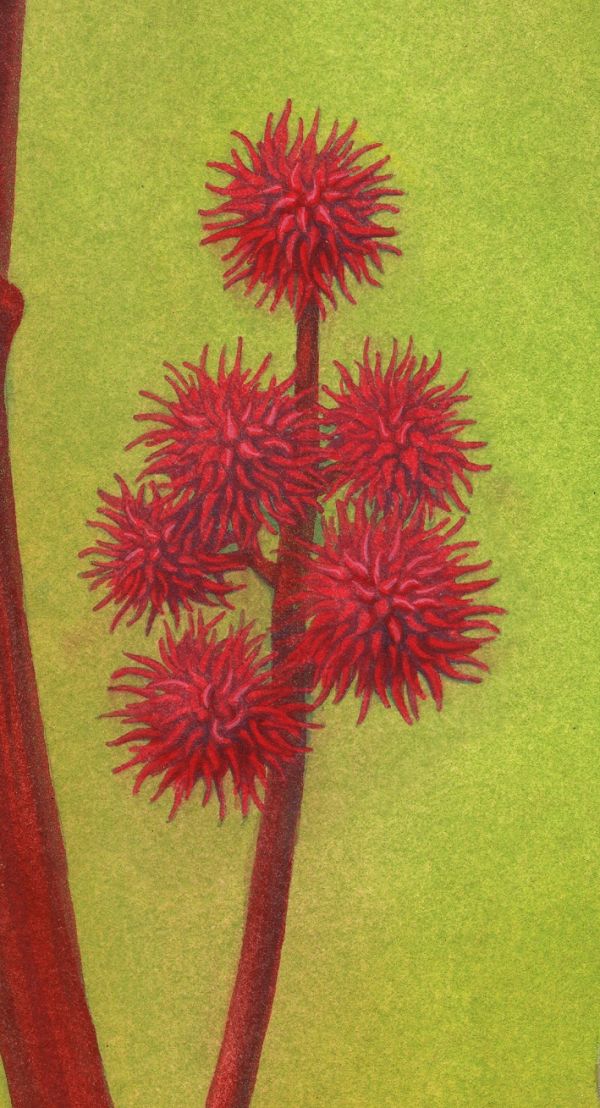 All images and prints are © Nancy Farmer. Please email me if you wish to reproduce any of these images, or see my permissions page in the 'info' section.
Prints & Original Artwork
You can now buy prints of my work (and a few originals) in my Etsy Shop. If you would prefer to buy direct from me, or you cannot find what you are looking for in the shop, feel free to email me instead: mail@nancyfarmer.net. If you are interested in original artwork, I do intend to post a list of currently available artworks in due course, but I'm in the process of moving and re-building a main website, so for the meantime please also email me for more information on originals, and also commissions.