Seven Sins
Artwork details: acrylic inks, 26.7 x 17.6 inches (68 x 45 cm), 2000.
My mother reminds me they are actually supposed to be the Seven Deadly Sins, which I am sure I called them when I first did this painting, but somehow the title changed and the 'deadliness' was forgotten about at a certain point, and it's too late now.
This is probably prophetic...
'Seven Sins' - painting by Nancy Farmer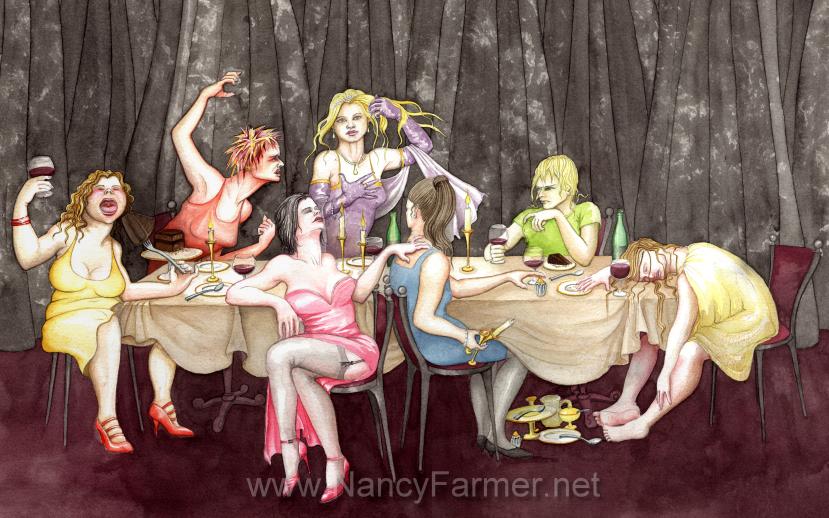 'Seven Deadly Sins go Clubbing'

'Seven Sins at the Seaside'
This is the first of the Seven Deadly Sins paintings - as I update this website at the start of 2008 there are now 3 Seven Deadly Sins paintings - making a total of 21 sins, which is probably enough for anyone! Nonetheless I think I've not finished with this subject yet, and in the end they may requite a section in my 'gallery' all to themselves. If you're interested you can see the other sins by clicking the thumbnails to the left. To date, I've not yet tackled any of the Seven Heavenly Virtues, but they're on a mental list of things to do one day...
All images and prints are © Nancy Farmer. Please email me if you wish to reproduce any of these images, or see my permissions page in the 'info' section.
Prints & Original Artwork
You can now buy prints of my work (and a few originals) in my Etsy Shop. If you would prefer to buy direct from me, or you cannot find what you are looking for in the shop, feel free to email me instead: mail@nancyfarmer.net. If you are interested in original artwork, I do intend to post a list of currently available artworks in due course, but I'm in the process of moving and re-building a main website, so for the meantime please also email me for more information on originals, and also commissions.