Newsletter 15th July '04
Hi everyone,
When I first started compiling addresses for a mailing list I really did intend to mail people now and then, so once again apologies for not doing so, however, a number of exhibitions etc. are now on their way (see below) also one or two other items of news I thought I should tell people about, so here goes…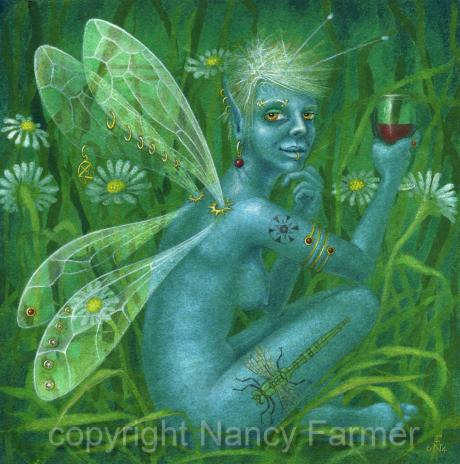 Tattooed Fairy, May 2004
Tattooed Fairy (above)
Not my newest painting, but one of the latest. For anyone who's not seen my website recently a few paintings have gone up in the last couple of months, and I thought I'd show you one of the most recent.
Fetishdollies
This is a new and rather alternative project I've been engaged in over the last few months. It's really not a very serious undertaking, but it has amused a lot of people - thanks to everyone who commented enthusiastically, the guest book entries have been very encouraging!!
Probably not everyone on this list will have seen this work - I was rather tentative about whom I told, feeling I may offend someone somewhere, but in the last four months no-one apart from Ebay has made the slightest objection.... so for better or worse it's now linked across to my main website. I'd intended to keep a separate mailing list, too, but that's just going to be far too confusing (for me!) sorry...
Visit the website at: www.fetishdollies.co.uk
And for anyone interested in the larger prints of these pictures, I'm about to reduce the price so keep an eye on the website.
The Guild of Erotic Artists
I happened upon (and joined) this group while looking for details of the Erotica show in London (mainly as a suitable venue for the Fetishdollies pictures). It soon became apparent that not only might the dolls pictures feel at home here, much of my 'normal' artwork fits in quite well, too. The Guild of Erotic Artists are the organisers of the Art section of the Erotica shows, and have a permanent exhibition at Beaumont Hall Studios near St Albans.
That's about it for now - anything else you want to know, email me...
take care
Nancy
x
Nancy Farmer
Visit the Dolls website at www.fetishdollies.co.uk
Visit my Gallery of Paintings at www.nancyfarmer.net
All images © Nancy Farmer (unless otherwise stated), all rights reserved. Please email me if you wish to reproduce any of the images on this site