Newsletter 21st August '04
Hi everyone, There seem to be several exhibitions coming up regularly now, so I'm going to try to make this newsletter a monthly thing.
Somerset Art Weeks: 11th - 26th September 2004 (closed Mondays)
Formerly Somerset Art Week, this event now runs for some 16 days. Events run all over Somerset during this period, and I'm taking part with a number of other artists at Moorlynch Vineyard. This is advertised as an 'Open Studio', although mine is more of a conventional exhibition, since, unlike everyone else, it's not where I usually work. This will mainly be an exhibition of my paintings, although it's possible I'll also have a small and 'tasteful' display of the dolls pictures, too.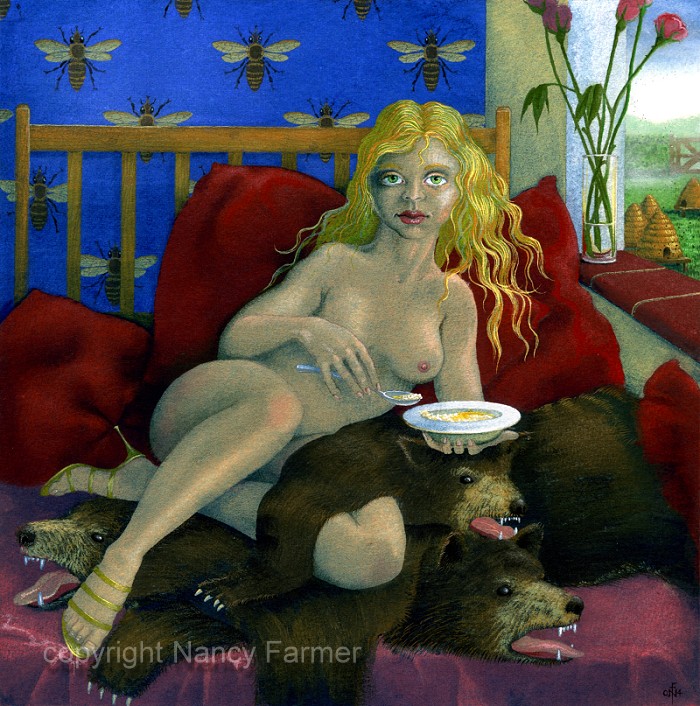 'Goldilocks and the Three Bearskins' August 2004
'Goldilocks and the Three Bearskins' (above)
My latest painting. A number of recent paintings have been increasingly tiny and detailed. This one's about 7.5inches square.
Goldilocks, it turns out, is very fond of honey - which rather fits in with her liking for porridge, too - and of course, as a beekeeper she wouldn't want live bears around, who are also very keen on honey... These are the ideas I was playing around with in this picture, which I almost called 'The Bears and the Bees'. I expect it's the honey that keeps Goldilocks' hair so yellow, too...
Fetishdollies
The Dolls will be making appearances at both the Skin Two Expo, and Erotica, in London, this year. See Exhibitions. Also, some of them could be making an appearance in greetings cards... this is not my venture, but a genuine card company.... although the dolls will have to rather 'dress down' for a wider public market... I'll keep you informed...
Coffee Cake & Kink:
Selected portfolios of both my paintings and the Fetishdollies can now be found at the unusual and innovative 'Coffee Cake & Kink' in London's Covent Garden. The title is fairly self-explanatory: this is a new coffee bar / gallery / bookshop etc. specializing in the erotic and kinky....
www.coffeecakeandkink.com
61 Endell Street, Covent Garden, London WC2H 9AJ
That's about it for now - anything else you want to know, email me...
take care
Nancy
x
Nancy Farmer
Visit the Dolls website at www.fetishdollies.co.uk
Visit my Gallery of Paintings at www.nancyfarmer.net
All images © Nancy Farmer (unless otherwise stated), all rights reserved. Please email me if you wish to reproduce any of the images on this site