Newsletter 1st April '05
Hi,
Reading through, this latest newsletter is entirely concerned with my current exhibition. But since that is pretty much all I've been working towards recently I've not really done a lot else. Maybe next time there will be a little more variety...
Bridgwater Exhibition - April 2005
'Mad-eyed Kings and Coffee Breaks in Hell'
It's up and running!!! This joint exhibition between myself and Lucy Hinds went up on Tuesday and runs for almost the whole of April. Lucy's work makes a fantastic contrast in scale and technique while reflecting some similar threads of influence, inspiration and humour. Broadly they're pictorial wall hangings, made by rag-rugging, and Medieval, Biblical, and other curious characters abound...
Art Stuff
Recent drawings, and limited editions:
Lately I re-discovered the humble pencil. Necessity being the mother of invention, I took to drawing in pencil a few weeks ago, there being little time left to complete any more paintings before the exhibition that's now started, and have been enjoying the change for a while. Here's two I particularly like - intended as a pair of images: "Long Distance Call" parts one and two, or "Fireside Devil" and "Tea with Cake and Seagulls". I have a few more drawings on my website under 'New Work' in the 'Gallery' And, because several people have enquired in the past, and by way of an experiment, I've decided to offer prints of these as limited editions only.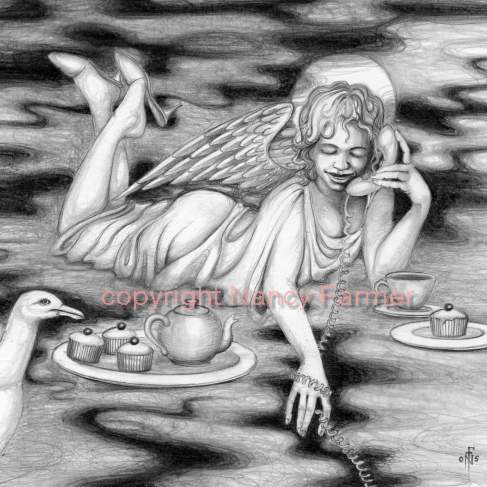 Long Distance Call: part two (above) and part one (below)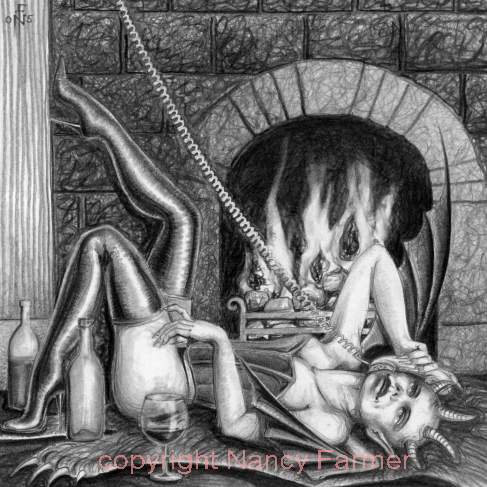 Fetish Dollies
The Dolls have got a little Arty - not wishing to be left out of the exhibition! I shot a sequence I had intended to call "Self-referential Art" but the title rather got left behind somewhere... and possibly a good thing as I'm not sure they can weather this sort of pretension! They are all on my site at fetishdollies.co.uk. Here's a couple I had printed up large for Bridgwater - if you visit and cannot find them they are lurking down the corridor as there was no other space once the paintings were up, and I think it rather suits them to act a little furtively...
Brighton Fringe Arts Production: Erotica Exhibition
22nd April - 10th May 2005
I've been invited to submit the actual dolls themselves for this exhibition, rather than the photographs. "Brighton Fringe Arts Production are currently organising our second visual arts exhibition - Erotica.... The exhibition is a platform for local up-and-coming artists to show their work alongside established well known artists from around the globe."
That's about it for now - anything else you want to know, email me...
take care
Nancy
x
Nancy Farmer
Visit the Dolls website at www.fetishdollies.co.uk
Visit my Gallery of Paintings at www.nancyfarmer.net
All images © Nancy Farmer (unless otherwise stated), all rights reserved. Please email me if you wish to reproduce any of the images on this site