Newsletter 3rd August '06
This Newsletter covers both my painting and photographic work - if you've only seen one of my websites, here they both are:
Visit my gallery of Paintings at www.nancyfarmer.net Visit the Dolls' website (photographs) at www.fetishdollies.co.uk
New Paintings:
'Seven Sins at the Seaside'
to see a close-up visit the page in the gallery where I have put this painting - click here.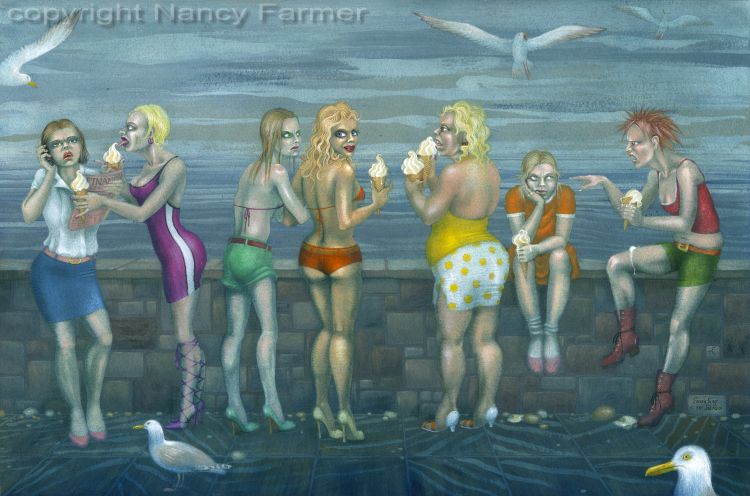 Hard to know where to begin with the paintings since I last did one of these newsletters - there's been a lot of new paintings, most of them up on the website now, but a few more to go. So here (above) is the last painting I finished, another 'Seven Deadly Sins'. This one is Seven Sins at the Seaside - I had to drop the 'Deadly' bit again on account of the alliteration sounding rather good like that (I thought anyway...). Once again I have put Pride in the middle, where she should be - she absolutely loves herself (though I must admit she has a rather frightening face), poor little Envy is hanging off her arm wanting to be the same, Avarice is on the far left, mobile phone in one hand and copy of the Financial times in the other, and might as well not have turned up for all the notice she is taking, the others are doing their thing as usual... From left to right: Avarice, Lust, Envy, Pride, Gluttony, Sloth and Anger.
Actually that takes the total up to 21 sins, cumulatively, this being the third painting - the second one I finished a few months ago, and it's been on the site for a little while, but I thought I'd put it here, too:
'Seven Deadly Sins go Clubbing'
to see a close-up visit the page in the gallery where I have put this painting - click here.
And just so you know it's not been all Sins - here's a devil I finished last month - yes I know - not much change there, either - but this one's something of a hopeful horticulturalist, which has to be uncommon in Hell. The theme of this painting is something I had thought about ages ago - after all, while pot plants are not all that likely a concept in Hell, if the Devil is down there for an eternity then he's bound to get round to trying out some of the more unlikely activities just to relieve the tedium of having to torment the dammed every day - and it will make the place a little more cheerful, no doubt. Of course it had to be cacti.... I did briefly consider ferns since they grow with very little light - the sort you get half way down wells and so on - but in the end I had to go with the no-water motif.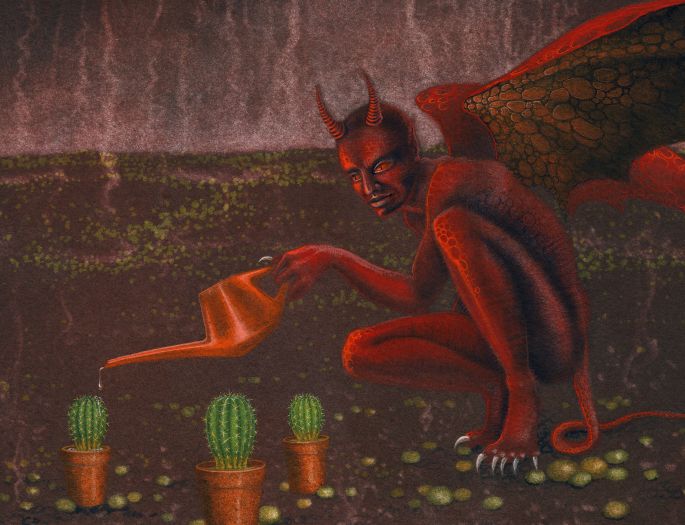 'Watering the Pot Plants' - Satan as a gardener.
(detail)
CLick here to see the whole picture in the gallery.
An alternative thought occurred to me when I was sketching this one - that maybe instead I could have had a little crack in the ground opening up, with a carefully-tended weed sprouting out of it like weeds out of concrete - but I rather rejected it on the grounds of too much metaphor and not enough silliness - hope springs eternal and all that sort of stuff. I'm not sure I'm all that big on Metaphor - if I paint a painting of the Devil watering pot plants it is generally because I intend to show that maybe the Devil has some pot plants that need watering.
He might.
Somerset Art Week
Misleadingly named, this is a Somerset wide open studios thing, which runs for about two and a half weeks every other year. You won't get to see my studio - sorry - (there's not a lot to see anyway) - but I will be turning my front room into a gallery. For anyone who visited two years ago - I'll still be in Moorlynch, but not up at the Vineyard this year - I'll be down the road next to the pub
Please see my Exhibitions Page.
Tony's Back!
Ok, not strictly art-related news, but lots of people who read this know Tony (my other half) who went off for 3 weeks to the United Arab Emirates to set up a project.... and didn't come back for over two years... (ok, so he did get to visit now and then - but that's about the gist of it). Anyway - he's now back for good (I hope!). Yay!
The Blog
I've started a blog on Live Journal.
It's at: http://nancy-farmer.livejournal.com
I will still try to keep up the occasional newsletter - but this is an easier way to add new items as they occur (and inconsequential non-art things like photos of my baby pumpkins in the garden), so have a look there if you want to see what I'm currently up to. I also have the same blog on MySpace at http://www.myspace.com/nancy_farmer, although I much prefer Live Journal (since I am at least 20 years older than I should be to have a page on MySpace...)
There are links to both these in the top right hand corner of my homepage (the paintings one).
Fetishdollies
I would love to be able to show you some new pictures - but I've been doing a series of horoscope images for Scarlet Magazine I'm being very good and not posting them anywhere until the magazine actually publishes them. They'll start with Libra in.... um... about October, I think.... and then I shall probably put them up month by month. Until then all I have to offer are a few pictures I did before the exhibition at La Viande all the way back in May. Thanks to everyone who came alone and supported Georgie and me at that exhibition. And if you didn't make it you might not have seen the 'Elizabeth Bathory' pictures I had just finished at the time:
'Elizabeth Bathory'
click here to see the website
Some dolls never grow old... inspired by the story of the mad bad and bloodthirsty Hungarian Countess Elizabeth Bathory, who took to bathing in the blood of young girls to restore her youth, I created a few images that may go a little way to explain things about Sindy's flawless complexion...
Bridgwater Comunity Panto
I'm doing a pantomime (oh no you're not.... oh yes I am....)... well the set and costume design to be precise, for Bridgwater Community Pantomime, which will take place in Bridgwater Arts Centre in early January. Storyteller Clive Pig is writing and directing the actual acting bit.
The story is based on a rather obscure fairytale (at least I've not met anyone yet who's heard the story - apart from Clive) - 'Hans the Hedgehurst' according to Duncan Williamson.... 'Hans mein Igel' / 'Hans my Hedgehog' according to the Brothers Grimm. Well, it starts off with a childless couple who so badly want a child that she / he (depending on the version) declare that they would love a child - "even if it was as ugly as that hedgehog there"... Of course there is a bad fairy resting on the windowsill (on the way home from causing trouble elsewhere, no doubt), and she grants this ill-considered wish... and things pretty much go downhill for the unhappy couple from there... (serves them right for being rude about the hedgehog)... Well, I won't spoil the story, you'll have to come along and see it...
The Arts centre is about to start looking for volunteers to join the pantomime company, either working with me on the set or as performers working with Clive Pig. There's a charge for taking part which is £40 or £30 concessions, and if you'd like details then please phone the Arts Centre on 01278 422700 - see the flyer below for a few more details: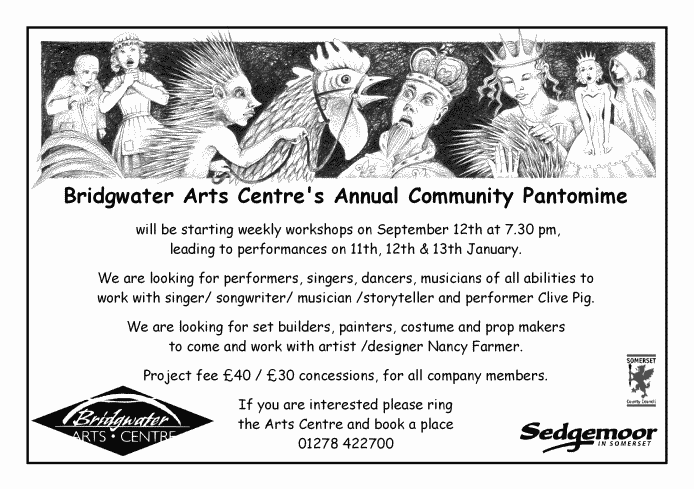 Exhibitions
Please see my Exhibitions Pageon the website.
Ebay
I am currently auctioning a few prints each week on ebay:
prints of my painted work or search for seller id nancy_farmer
Well that's about it for now. Once more I apologise for not sending this out ages ago, but I don't think you've missed anything! I have a few exhibitions planned, or half-planned, for this year, so I hope to keep you informed, but anything else you'd like to know, do email me...
take care
Nancy
x
Nancy Farmer
Visit the Dolls website at www.fetishdollies.co.uk
Visit my Gallery of Paintings at www.nancyfarmer.net
All images © Nancy Farmer (unless otherwise stated), all rights reserved. Please email me if you wish to reproduce any of the images on this site