Newsletter 29th January '08
This Newsletter covers both my painting and photographic work - if you've only seen one of my websites, here they both are:
Visit my gallery of Paintings at www.nancyfarmer.net Visit the Dolls' website (photographs) at www.fetishdollies.co.uk
Hello!
I hope you had an enjoyable Christmas / New Year's festivities. I did send out a virtual Christmas card at the time, but I don't recall it had any news attached, so, as I have a couple of exhibitions on the way it's about time for a little update.... and in the meantime I also have a couple of brand new images of my favorite scary lady to show you.....
Medusa returns... twice
It's becoming a good year for Medusa, and it's still barely the end of January. I have two new paintings of her, in fact so far this year all the paintings have been of Medusa - but don't despair if you don't like Medusa - I'm confident some other subjects will be on their way in due course, it's just that she seems rather popular at present, and I like painting all the snakes. Personally I think that the rise in Medusa's popularity may be in part because I think she's somehow been promoted to 'goddess' status over the last few years. Round where I live (near Glastonbury) there's something of a goddess thing going on, and I think Medusa may have been secretly slipped in amongst their ranks. Must be nice, having spent millennia as an ancient Greek monster, finally finding oneself amongst such exalted company. I only hope the other goddesses are appreciative of her... um... unique talents.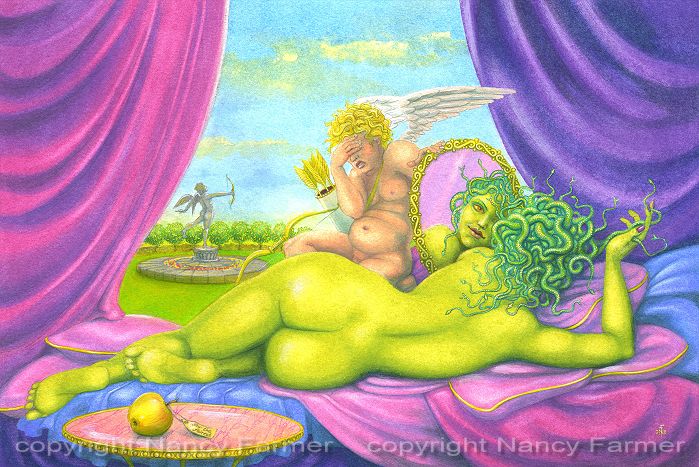 'Medusa in Venus' Bedroom'
So, in reverse order, here is the second of the two. If it rings a faint bell it's probably because it's inspired partly by the 'Rokeby Venus' which hangs in the National Gallery - see the picture below. That painting, by Velázquez, is of course a painting of the Classical goddess of Love (equivalent to Aphrodite, and I'm sorry for the unavoidable slip from Ancient Greece to Ancient Rome here, as far as names go). Anyway, so far as I know it's never been thought of as particularly deadly to look at Venus directly (though it might have got a few blokes into a bit of trouble in the past) so there's really no need for the whole thing with the mirror, unless, as I suspect, the painting was done for a customer who was rather keen on bottoms and not overly bothered about faces. Here's the original painting: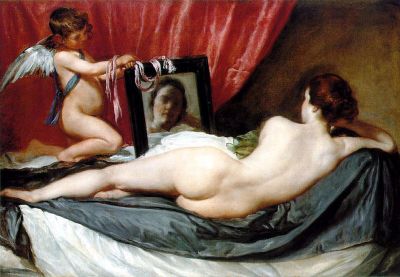 The 'Rokeby' Venus, by Diego Velázquez (1599 - 1660)
But Medusa now - she's another prospect altogether - legend has it that to look into her face, or possibly eyes, turns the on-looker to stone - as Cupid, holding the mirror, is clearly aware of. One glance from her and he's a garden ornament. So the whole arrangement makes a lot more sense if Medusa is the subject, and she has a just as nice a bottom as Venus, even if it is a kind of yellowy-green. What exactly Medusa in doing in Venus' bedroom in the first place of course is uncertain, perhaps she has merely popped over for a cup of tea (seeing as they're all goddesses together now...) but it does explain a bit of a shift from my usual colour pallet to some rather sugary pinks purples and blues - it is Venus' place after all, and the colours clashed rather fetchingly with Medusa, I thought...
To see this picture a bit larger, have a look at the 'Medusa in Venus' Bedroom' page in the Gallery, where I've put up some close-up images as well.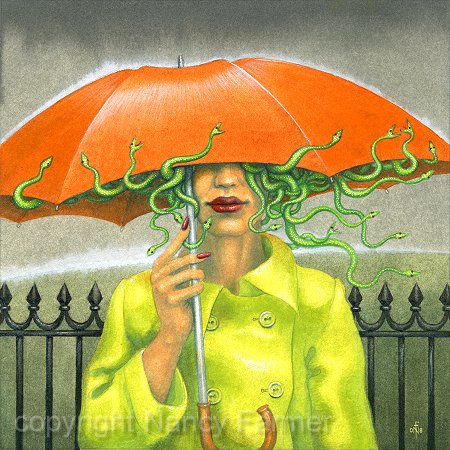 'Medusa in England'
The previous week I painted this one, and it was very seasonal at the time since the rain seemed set in for a full course of 40 days and 40 nights. It's brightened up just lately, but still I rather liked the idea of Medusa shading her deadly gaze with a large brolly, and the snakes are having a great time in the rain. I can't explain why she now wears a raincoat the colour of her skin in the other picture and herself has pink skin again... you will just have to accept such inconsistencies as one of the perks of artistic license, or believe that Medusa tans to a fetching shade of yellowy-green in the sunshine.
Exhibitions coming up:
Below are things that are happening soon - if you want to see the complete list have a look at my current and future exhibitions page
IAG group exhibition at Rugby Art Gallery and Museum, Rugby, UK
5th - 18th February 2008
Private View: Tuesday 5th - all welcome.
This is a group exhibition by the 'Independent Artists Group' (IAG) - which is a group of artists who sell their work through Ebay. I have 4 miniature paintings in this exhibition - the 'Kings and Queens of Old England' paintings (minus the Slug Queen picture, which is sold), and there will be work by about 15 other artists there, too. I will be there on the evening of the private view - I believe the private view is in fact not private, and open to everyone, but please email me if you'd like to come so I have an idea of who to expect.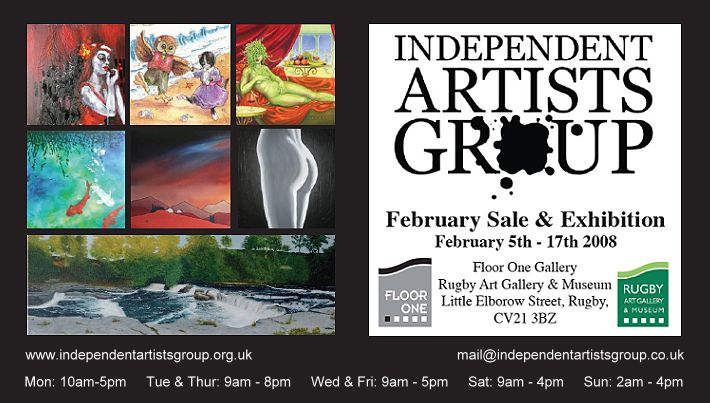 Chandos Society Annual Exhibition - Bridgwater Arts Centre, Bridgwater, Somerset, UK
February 5th - 27th 2008
The Chandos Society Annual Exhibition is running again as usual, and I'll be submitting some pictures.
Bridgwater Arts Centre:
11/13 Castle Street Bridgwater Somerset TA6 3DD
www.bridgwaterartscentre.co.uk
The 303 Gallery's Valentines Exhibition, Martock, Somerset
The 303 Gallery are busily re-hanging for another themed display in time for Valentine's day. Though not perhaps one of my strongest subjects I did manage to find 3 paintings idealy suited (if a little weird): 'The Mariage of Heaven and Hell', 'Medusa and Oedipus' and 'Dancing with the Minotaur'. In addition the gallery has a lot of my Gold Fairies, and loads of other creations from other local artists, from paintings to jewellery to furniture and sheep you can sit on...
The 303 Gallery:
Just off the A303, at Yandles Wood Centre on the B3165,
Martock, Somerset, TA12 6JU.
tel: 01935 825891 email: 303gallery@yandleandsons.co.uk
Solo Exhibition at 'Frameus' in Wells, Somerset, UK
March 1st - 29th 2008
The Opening 'Party' will be 12noon - 2pm on Saturday March 1st - all welcome. We'll have drinks, and perhaps some nibbles, so do pop in for the opening and say hello. The exhibition will then continue for 4 weeks - until 29th March. Note - even though it's in the centre of Wells, this place can be a little hard to find, so I'll be putting some sort of map up in due course.
Opening times: Monday to Saturday, 9am - 5.30pm
'Frameus', The Workshops, Market Street, Wells, BA5 2DS
email: mail@artlovers.co.uk
Solo Exhibition in Gallery Eight, Glastonbury, UK
Approximately June 1st - 14th 2008
Dates are approximate, but I've booked the upstairs room of Gallery Eight for the first two weeks of June - more details when they've been worked out.
Gallery Eight:
8 Market Place, Glastonbury, BA6 9HW
Website Changes
Finally, some of the work I've been doing behind the scenes is starting to have an effect on the website itself. In the Shop section the list of available originals has expanded dramatically and now runs to three pages, split up by price. At the top end it's not changed much, but at the bottom end I've added on all of the Permanent Sketches, which were to numerous to keep track of without a proper grown-up database like wot I have written. If you want to see these they are all on the 'Originals up to £50' page. At some point I'll also put together a more comprehensive page where you can see all, or at least lots, of these drawings all together.




Each painting's page in the Gallery has begun to evolve, too. It now lists the price of the original, where available, and I shall add more useful info on prints when I get round to it. At the same time I've been wading through each and every description of the paintings themselves, adding more content. This is part of a cunning plan to get noticed better by google, but I hope at the same time to make the site more entertaining... one notable addition is the entire story of the Cyclops to accompany the painting of Mrs Cyclops, Lately Widowed, but there is a lot more writing generally spread around the site.
A section in my gallery for Medusa all to herself is immanent, as I now have 8 paintings, in fact the next things to change may well be the gallery sections, with a few more smaller sections, but all in good time...
Calendars, cards and other things with my pictures on them...
Well, I've tried cafe-press and Spreadshirt, both sites that print t-shirts, mugs etc with images on them. But with my pictures I don't really sell enough to justify keeping them going, fascinating time-waster though they are... So I'm going to largely close down these shops at the end of February. So - if there's anything you had though about buying before then you have a month! I may not close them completely, as the Cafe Press calendars were lovely, and I intend to do a calendar of some kind next year - though I hope to find a suitable a uk-based company for that if I can.
However the dolls greetings cards seem be popular! So much so that I've started to add a few more to the range. This includes a few horoscope themed images - I had done a set of Horoscope photos of the dolls a couple of years back and I thought they might be an interesting seasonal addition to the greetings cards - so far Pices is available and Aries on the way, and if they prove popular I'll get them all printed, month by month. They're currently only on display in my ebay shop - look down the menu on the left-hand side to find them, under the section called 'greetings cards (dollies)' - sometime I'll make them available on the real site, too, though I can happily take orders via email without the need for ebay if you prefer...
And here's another addition to the greetings cards:
Ok, well, that's all the news I can think of for now, anything else you'd like to know, do email me...
take care
Nancy
x
Nancy Farmer
Visit my Gallery of Paintings at www.nancyfarmer.net
Visit the Dolls website at www.fetishdollies.co.uk
All images © Nancy Farmer (unless otherwise stated), all rights reserved. Please email me if you wish to reproduce any of the images on this site