Newsletter 9th May '08
Hello!
Ooops... it's been another long gap since I did one of these, sorry... still, at least that means I have more things to show you, plus another exhibition coming up soon that I wanted to remind everyone about...
An Unholy Trinity
I have an exhibition coming up in Glastonbury during the first 2 weeks of June, in Gallery Eight - see below for details. Actually I already sell prints there, and have a couple of paintings on display too, which gives me a good idea of what pictures go down well in this, my almost-nearest town. Not to put too fine a point on it what people in Glastonbury like is devils. Preferably she-devils in corsets. Preferably sitting on men. In fact for every other print of something else sold from Gallery Eight I seem to sell one of The Devils' Tea Party.
Well, who am I to judge? So, back in March, and with the exhibition looming in the not too distant future, I thought it was high time to return to Hell, so to speak, and paint a few more of the locals: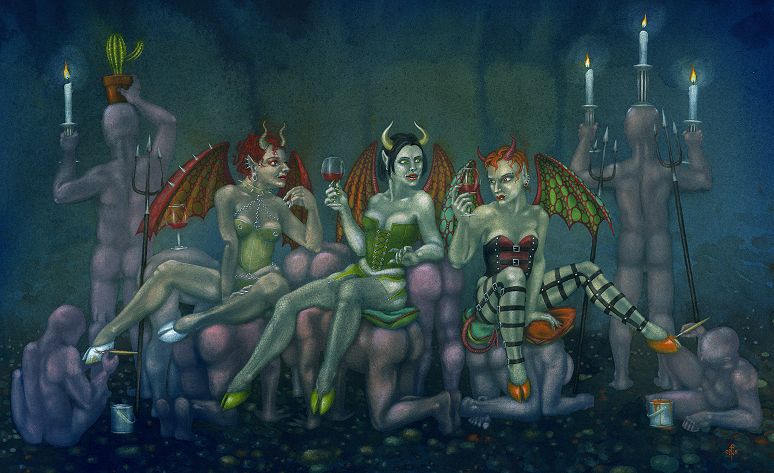 'Painted Devils'
see painting in more detail in the gallery
No self-respecting devil would be seen dead with scruffy hooves, and though sadly there are many devils without a shred of self-respect, these elegant girlies are not amongst them. They are having their hooves painted in fetching shades to match their outfits. All the naked blokes are the Damned, of course. There are no tables, chairs and standard lamps in Hell - that would just be silly - but there are a lot of Damned, so one may improvise. I couldn't say whether there are many manicurists in Hell, but there are almost certainly a great number of painters and decorators who could learn to put a nice finish on a hoof, especially if the alternative was the Boiling Lake of Fire.
And then, well, there was yet one more trinity of She-devils, because I was on a roll, and because I wanted a more compact composition suitable for the postcards, and it seemed like a good idea to come straight out with a painting called 'Hell and High Tea' - the title that this exhibition is going by. But, well, devils being a capricious bunch it just didn't come out that way, and half way through the preparatory sketch they already had their playing cards in their hands and had done away with any 'high tea' and so the resulting exhibition invite now looks like this: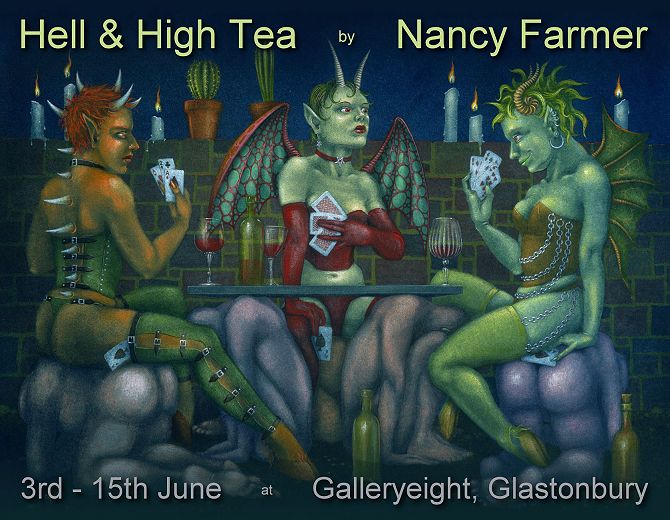 'Five Aces
To see in more detail go to the Five Aces page in the gallery.
Devils cheat at cards, just as one would imagine. The trouble is they all cheat, which is fair, in a way. Unfortunately all of them have an ace up their... well they have an ace anyway... and it's the same ace in each case, which is going to cause trouble. The she-devil on the right also has a '666' - which is probably a winning hand in Hell. I don't know, I've never been much good at cards.
So, on to the actual details of the exhibition:
'Hell and High Tea' - Solo Exhibition in Gallery Eight, Glastonbury, UK
Tuesday June 3rd - Saturday June 15th 2008
The exhibition will be in the upstairs room of Gallery Eight.
As already implied, there will be a good turn-out of demons for the exhibition (amongst the paintings on the walls, I mean - I can't speak for the visitors...). As ever, though, there will be plenty of other creatures represented, from mermaids and maidmers to fairies, and those Greek ladies Medusa and Mrs Minotaur. I also hope to find a small corner for some of the dolls photos, so there really will be something for everyone. Prints will also be available. Entry is free and you are welcome to just pop in and browse.
Private View: Sunday 1st June 2-4pm
I'd like to invite you to the private view on the Sunday afternoon to mark the opening of the exhibition. Please note - the exhibition will not be open before 2pm on this day as I will still be putting paintings on the walls, although the rest of the gallery downstairs will be open.
Meet the Artist: Saturday 7th and 14 June 1-3pm
In addition to the 'proper' private view, I will also be in the gallery on both the following Saturdays.
Gallery Eight:
8 Market Place, Glastonbury, BA6 9HW
opening times:
Sunday: 11am - 5.30pm
Monday: closed
Tuesday: 10.30am - 5.30pm
Wednesday: 10.30am - 5.30pm
Thursday: 1pm - 5.30pm
Friday: 10.30am - 5.30pm
Saturday: 10.30am - 5.30pm
Somerset Art Week:
I'm also taking part in Somerset Art Week again, which this year runs from 13th to 28th September - more on that later. You can also check my current and future exhibitions page on the website for more information.
A Rogues Gallery
Every now and then someone wants to actually be in one of my paintings - usually they seem to want to be devils and demons, but that may simply be because those are the sorts of people I know. Some of them have even asked so nicely that I have started saying yes and actually painted some of them, so, I'm delighted to be able to announce a new bit to the Gallery on my website - a 'commissions' section. For anyone else interested in a commissioned painting I've put a few bits of information on that page too, and if you want to know anything else, do email me.

Commissioned Portraits - click here to see the paintings in full.
Paypal Buttons, at last!
I finally got the paypal buttons on my website! If you so desire, you can now buy prints and cards online, in the middle of the night, without waiting for me to get back to you (though of course I won't generally be posting in the middle of the night). That said, I am always happy to hear from people personally. To get to the bit where you can buy prints, you have to visit the particular picture you're interested in and click the link to the left, under 'Prints' - I have created a whole new page for each image, with all the sizes and variations of prints listed, so even if you don't use the buttons I hope this may be useful to someone.
More Ancient Greeks:
It's not all Devils and Hell down here - I still have a few Ancient Greek monsters hanging around: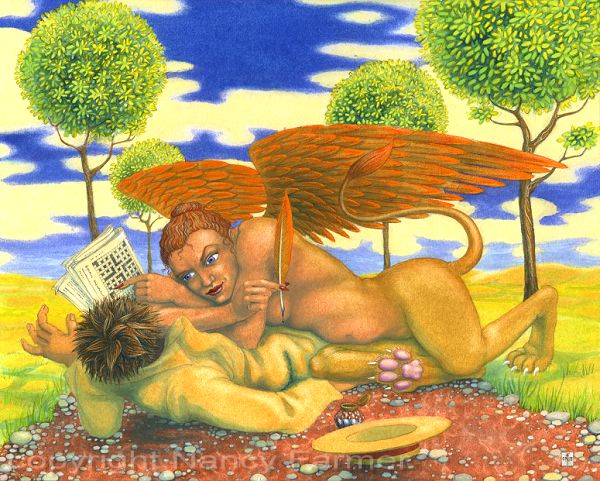 The Sphinx changes the Rules
It was the Sphinx who menaced the ancient city of Thebes, lurking by the road and asking every traveler to and from Thebes a certain riddle. When her victims couldn't answer the riddle, she ate them. Monsters do this kind of thing for fun.
Oedipus, however, answered the riddle correctly and apparently the Sphinx was so upset she threw herself off a cliff and killed herself. Well that's what Oedipus says happened. It's not very likely, though, I mean, one single riddle? Don't you think she would try a bit harder than that? This is a terrifying ancient monster after all... who eats people. And another thing - she has wings. Jumping off a cliff is hardly a convincing way to commit suicide if you have wings.
So, this is my version of the story... the one where the Sphinx really isn't very upset about Oedipus' ability to answer the one poxy riddle... oh no... Oedipus is gonna have to work much harder than that if he wants to show how bright he is!
For the whole story about Oedipus (and the riddle, if you're interested) have a look at the painting of Medusa and Oedipus - scroll to the bottom of the page and you'll find I've put the whole story there, underneath the pictures... On second thoughts - I will leave you with the riddle, and you can guess it yourself:
"What animal goes on four legs in the morning, two at midday, and three in the evening?"

The answer to the riddle, if by chance you've never heard this one before, is there along with the story...
Dolly Greetings Cards
Unfortunately I daren't add paypal buttons to the dolls site. As an artist friend of mine, Georgie Tier, already found, paypal are a little touchy over their buttons being used to sell 'rude art'. However, I now have a full selection of my cards on Etsy.com, which, although in dollars, is hugely preferable to Ebay, though I still have items there, too:
My Etsy shop: Main storefront: www.nancyfarmer.etsy.com
Or you can also go straight to the dolls section here
My Ebay shop: Main storefront: www.stores.ebay.co.uk/Art-by-Nancy-Farmer
Or you can also go straight to the dolls section here
Ok, well, that's all the news I can think of for now, anything else you'd like to know, do email me...
take care
Nancy
x
Nancy Farmer
Visit my Gallery of Paintings at www.nancyfarmer.net
Visit the Dolls website at www.fetishdollies.co.uk
All images © Nancy Farmer (unless otherwise stated), all rights reserved. Please email me if you wish to reproduce any of the images on this site