Dinner for Two
Artwork details: gouache, 20 x 13 inches (51 x 33 cm), 2003.
'Dinner for Two' - frog and princess picture, with a difference.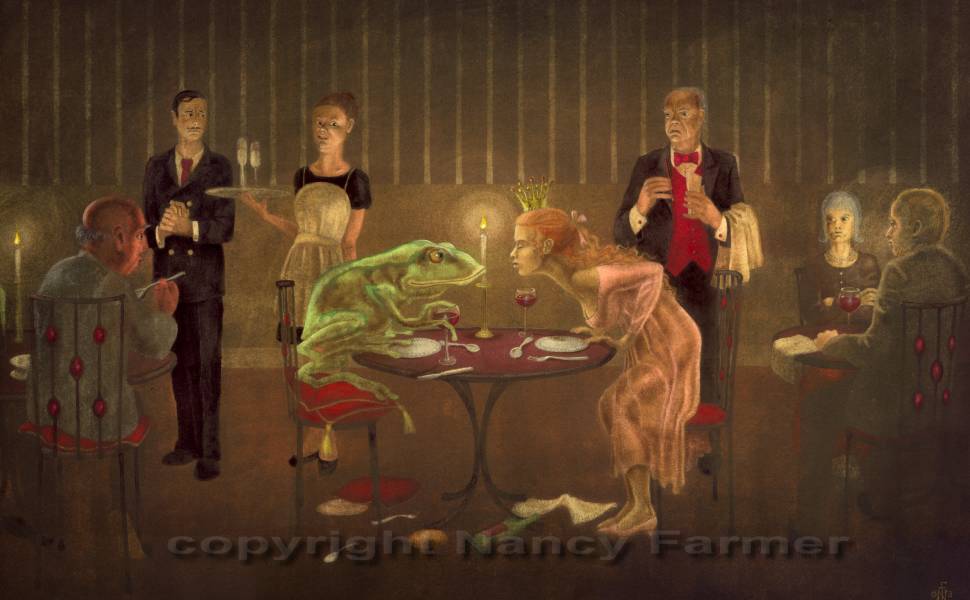 certain royal personages do behave quite appallingly, and there's not a thing to be done about it. If the princess wants to take her Frog out to dinner, who's to stop her?
Close-up of Frog and Princess.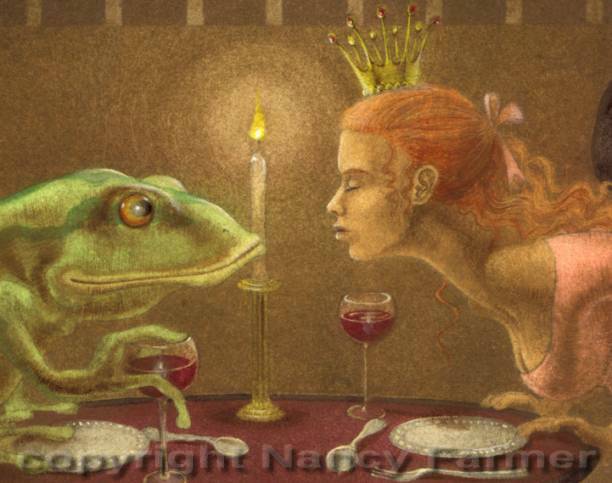 This, of course is my alternative to the original Frog Prince fantasy. Here my willful and peculiar princess has fallen in love with an actual frog, not caring for all the princes she might chose from. Of course she is about to kiss the frog - so who knows - maybe she will end up with a prince after all - will she be happy or terribly dissapointed?
But now here's a strange thing - in the actual (original) version of the Brothers Grimm fairytale from which this comes the princess never kisses the frog at all. No - she waits till she is out of sight of her father the King (who makes her keep her promise that the frog can be her companion as reward for helping her). Once out of sight, she picks up the frog and chucks him against the wall... which, somewhat mysteriously and with no moral justification, breaks the spell and turns him back into the handsome prince. Personally I think this is just wrong and one of those occasions where changing the original story has actually improved it, I mean, she so doesn't deserve that handsome prince, does she?
If you want to see how this picture was actually painted it's one of the few I took some photos of as I went along - they're under 'info' in the main menu, or you can go directly to the Dinner for Two stage-by-stage photos.
All images and prints are © Nancy Farmer. Please email me if you wish to reproduce any of these images, or see my permissions page in the 'info' section.
Prints & Original Artwork
You can now buy prints of my work (and a few originals) in my Etsy Shop. If you would prefer to buy direct from me, or you cannot find what you are looking for in the shop, feel free to email me instead: mail@nancyfarmer.net. If you are interested in original artwork, I do intend to post a list of currently available artworks in due course, but I'm in the process of moving and re-building a main website, so for the meantime please also email me for more information on originals, and also commissions.