Newsletter 24th February '05
Painting
In January I finally got going and have been painting like an idiot so as to have a few new pieces for the Bridgwater exhibition in April. In size, the paintings are ever-smaller - a series of 7 (so far) each measuring just 4.5 inches square. But as with most of my work, the smaller it gets, the more detailed it all becomes. The first six are up on my website under the title of 'Drinking Girls'.... for 'girls' read 'monsters' of course, whith what I hope may be a twist of the unexpected.
Then I went to the other extreme, with a large and somewhat looser painting called 'Mayflies', which I will post on the website in due course.
Here are a couple of my recent ones: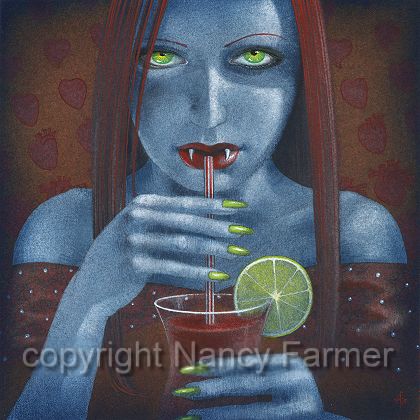 'Bloody Mary' or 'Vampire at a Cocktail Party' Jan 05
....yes of course tha's tomato juice she's drinking.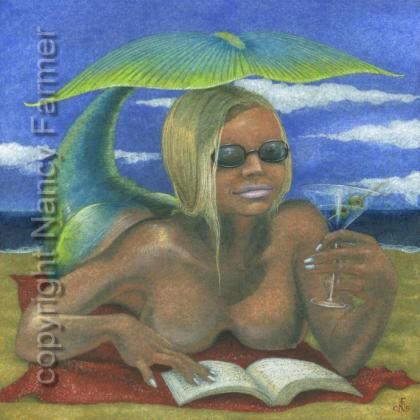 'Bronzed Mermaid' Jan 05.
Fetish Dollies
The dolls went out just after Christmas for a mud fight just outside my house. Sadly this caused absolutely no controversy whatsoever as they were only seen by one passing bloke looking for a nice fishing spot. Never a crowd when you want one - although I was concerned that a nearby tractor wanted to use my bit of road, but it went into the pig field instead.... this may tell you a lot more about where I live than about the actual photographs! Those are all on my website, and here's one of my favourites:
Since then the dolls have been getting very arty, in preparation for their little corner of my April exhibition. However, I'm behind on this newsletter, so I think I'll leave those pictures for the next installment....
Visit the website.
April 2005 Exhibition
I have an exhibition coming up very soon in April, at Bridgwater Arts Centre, Somerset. This is a joint exhibition between myself and Lucy Hinds. I hope to post a picture of Lucy's work in the next one of these newsletters, but to give you a general idea, she makes wall hangings using a rag-rug technique. The hangings are pictorial, often influenced by Byzantine frescos and Mediaeval paintings. Although very different in scale and technique I think there will be certain similarities of influence that will make this an interesting combination. I'll be exhibiting my paintings, and I have a few suitable photographic pieces of the dolls, for a little light relief - as if any were needed!
Book
'The Guild of Erotic Artists - volume one'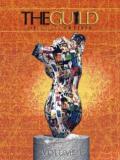 The Guild of Erotic Artists has just published its first book, a limited edition, with contributions from 25 members including myself. My pages feature both my painted work and the dolls photographs. Along with images of their work, artists, photographers and sculptors provide their biographies, stories and much information on techniques and the background behind their skills. This is a beautiful book, but please note it is a book of erotic art, and not fantasy or fairy art!
Please visit the buying stuff section of either of my websites if you'd like to know more, where I've pasted information, pictures and a list of all the contributors. Or email me for more details. Go on! have a look at the sites - this is a really lovely book!!
That's about it for now - anything else you want to know, email me...
take care
Nancy
x
Nancy Farmer
Visit the Dolls website at www.fetishdollies.co.uk
Visit my Gallery of Paintings at www.nancyfarmer.net
All images © Nancy Farmer (unless otherwise stated), all rights reserved. Please email me if you wish to reproduce any of the images on this site