Newsletter 6th April '06
This Newsletter covers both my painting and photographic work - if you've only seen one of my websites, here they both are:
Visit my gallery of Paintings at www.nancyfarmer.net Visit the Dolls' website (photographs) at www.fetishdollies.co.uk
'Dollies and Divas' Exhibition
Georgie Tier and I have a joint exhibition booked at La Viande in London - Mon 15th to Fri 19th May 2006
This is going to feature my dolls photographs, not my paintings, and alongside these will be Georgie Tier's hilarious erotic paintings. It should be a lively exhibition, so please come along!
La Viande, 3 Charlotte Road, London, EC2A 3DH
Georgie Tier's Website: http://www.erotic-art-online.co.uk/
La Viande website: http://www.laviande.co.uk/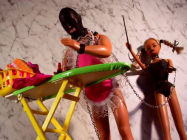 Left: Painting by Georgie. Right: the Fetishdollies.
New Paintings:
I have been rather keeping my head down and working hard since the start of the year. The result is that I have quite a lot of new pictures which I'm beginning to put up on the website - they're not nearly all up there, but since I have a little backlog I'm going to put them up gradually - that way you won't notice if I take a few weeks off now! Really I may very well do that as the poor old dolls have been rather neglected and I'd like a few new pictures for the exhibition at La Viande next month.
Anyway, here are a couple of miniatures I painted back in January. I began with a froggy female (not one of those below), who became the Frog Queen because it seemed appropriate.... then I rather got carried away by the thought of a peculiar regal and anthropomorphic series of paintings. Below are the Dog King and the Queen Bee. The Queen Bee was of course something of a gift for this subject, but I've made her at the same time more human and more alien, and she is pregnant - of course she is pregnant - the poor Queen has no other job than to make more bees for the whole of her reign. The Dog, on the other hand, has a little trouble looking regal at all, since dogs always seem to be looking up to people.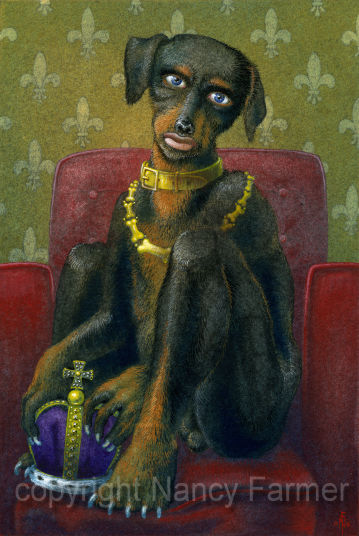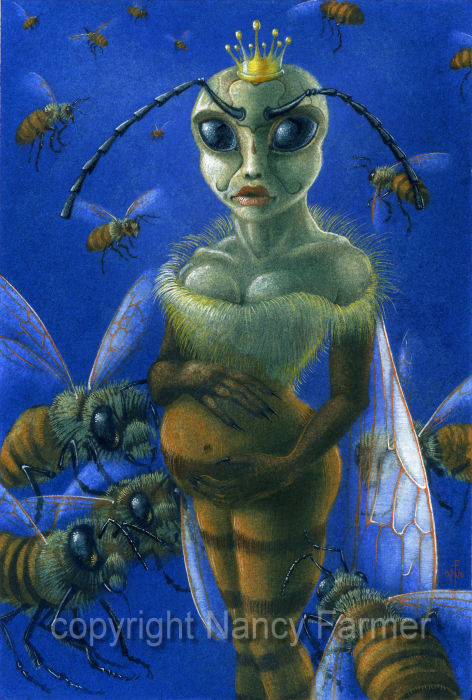 'Dog King' and 'Queen Bee'.
I have given the series the (possibly rather too cute) name of 'Kings and Queens of Old England' and you can see all five by clicking the title. I had not intended to stop at five, and may re-visit the theme sometime. If Ebay is anything to go by then these pictures may give some people the creeps - well if that's the case then I hope that some of the rest of my new work may appeal to you a little more... I would have put 'Dinner Guests' up here - a new drawing with a lot of vampires that I'm rather pleased with... but it's so large and detailed it would be hard to fit into an email without jamming all your inboxes. Click here to see in on my site.
Fetishdollies
The dolls have appeared in the March issue of Scarlet Magazine. I'm sorry I can't put an example up here - they were shot specifically to fit an article and rather rude - especially if your boss is looking over your shoulder, but you can have a look by visiting the 'New Work' section of my site and clicking on the photo there. I rather think that the dolls will be making another appearance or two in Scarlet Magazine, soon - I will keep the website up to date if this happens.
Exhibitions
Please see my Exhibitions Pageon the website.
Ebay
I am currently auctioning a few prints each week on ebay:
prints of my painted work or search for seller id nancy_farmer
Well that's about it for now. Once more I apologise for not sending this out ages ago, but I don't think you've missed anything! I have a few exhibitions planned, or half-planned, for this year, so I hope to keep you informed, but anything else you'd like to know, do email me...
take care
Nancy
x
Nancy Farmer
Visit the Dolls website at www.fetishdollies.co.uk
Visit my Gallery of Paintings at www.nancyfarmer.net
All images © Nancy Farmer (unless otherwise stated), all rights reserved. Please email me if you wish to reproduce any of the images on this site