Newsletter 18th October '06
This Newsletter covers both my painting and photographic work - if you've only seen one of my websites, here they both are:
Visit my gallery of Paintings at www.nancyfarmer.net Visit the Dolls' website (photographs) at www.fetishdollies.co.uk
It appears I should have done another newsletter several weeks before now, as there's a lot more items here than usual... although for some reason most of it is in black and white... with gold wings...
New work...
There's an awful lot of black and white stuff this time - it's not deliberate, but I thought I'd put up the one image that you won't have seen unless you've been keeping a close eye on my blog as I'm just about to add it to main website. When I finished the drawing 'For the Fairest it was a bit of an odd one out, as I'd not tackled anything from the Greek legends before... so now that picture has a companion...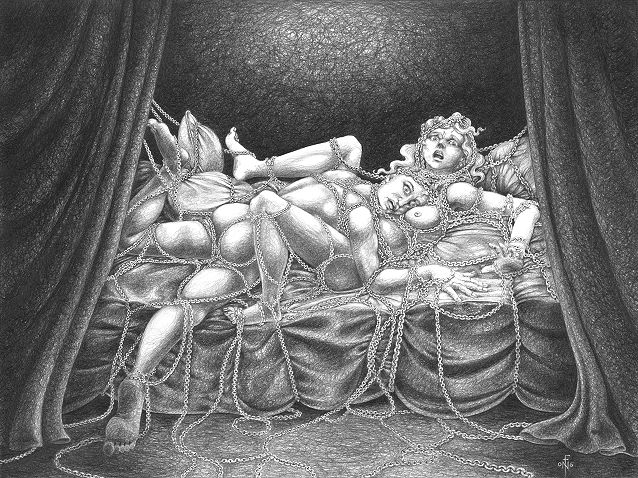 I'd been listening to Homer's Iliad and Odyssey - interesting source material, you'd think it would be full of heroic deeds and so on - well it is to some extent, but what it is mostly full of is long periods of sulking and complaining, punctuated by shorter periods of extreme violence.. all good stuff. Anyway, here's a little tale that turns up in the Odyssey as a story told by a bard:
Hephaestus (or Vulcan in the Roman stories) is the god of fire and metalworking, and married to Aphrodite (Venus), goddess of love, but apparently alone among the gods and goddesses he's crippled, and limps around causing much amusement amongst the other gods, even when they find his skills extremely useful. Aphrodite, not really keen on her un-glamorous husband, is busily having an affair with the ever-so-much more macho Aries (Mars) god of war, and Hephaestus finds out, and sets his trap. He goes down into his workshops and spends some time fashioning a network of gold chain so fine it's invisible and yet strong enough to trap a couple of gods, then he hangs it above the bed.
He then goes out, telling Venus he'll be gone some time, off to visit friends in distant parts etc, etc, and of course Aries pops up at once and the two lovers hot-foot it to the bedroom. The net falls down and the pair are trapped in the most embarrassing fashion. Hephaestus, who of course turned back soon after he'd left, calls very loudly to all the other immortals to come and see the shameful spectacle, although his victory is a little tarnished as all the goddesses stay away in solidarity with Aphrodite, and Hermes and Apollo reckon they'd still like to trade places with Aries, even trussed up like that...
Ok, so the chains could not really be invisible in my drawing (sadly - I had to draw every one of the bloody things - as bad as scales on a dragon...), but you get the idea.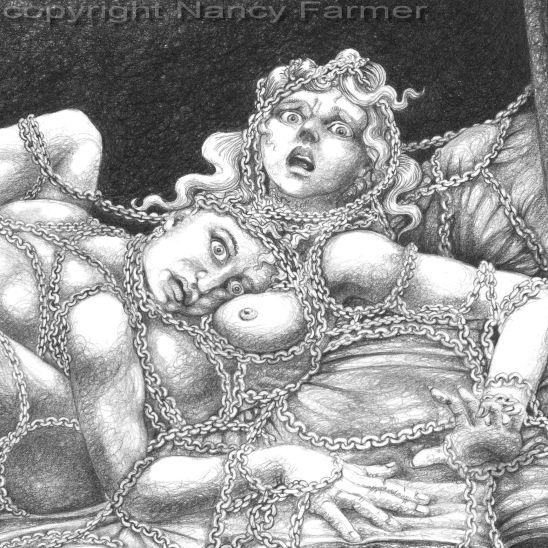 'Hephaestus' Trap'
to see a bigger image visit the page in the gallery where I have put this painting - click here.
Exhibition in Suffolk... and some more new artwork...
More of this exhibition later, when I shall send out an invitation type of thing, but thought this was close enough to warrant a special mention anyway... So, I have a solo exhibition in the Quay Theatre, Sudbury, Suffolk, 5th - 30th November. I'm particularly pleased to be doing this exhibition since it's where I had my first exhibition, exactly 3 years ago, and so it's nice to be asked back again! It's organized by the 'Friends of the Quay'.
See my Exhibitions Page for more about exhibitions.
And here's a timely moment to include the 'Gold Fairies' - or a handful of them at least. This is a little series I did a few months back but since I did them specially so as to be sure I had a range of small pictures for the Quay Theatre exhibition, I have kept them out of the Somerset Art Week exhibition. I apologise if they're not new, though - you've obviously been paying attention to my website...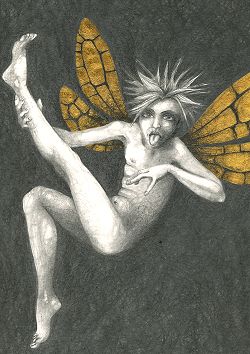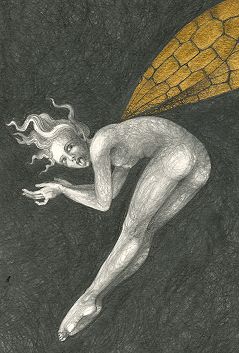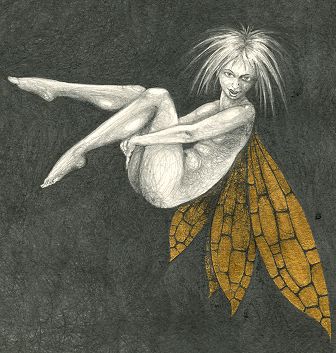 You can see all 13 of them on the gold fairies page, where you'll find that two of them did in fact turn out to be demons... always an occupational hazard when working with fairies...
I had a lot of fun doing these - they're pencil and 23 3/4 K gold leaf (fresh out of 24K gold leaf I'm afraid...) Well anyway - the gold leaf is stuck down on the paper on top of the sticky acrylic 'gold size', and drawn back into with pencil to give it some depth and 'shading'. Rather surprisingly they even reproduce well on a scanner, too, which I hadn't expected, and still come out looking pretty gold. These will be in Suffolk, along with a lot of other stuff. There's a Preview of the exhibition on Saturday 5th November, midday till 2pm, when I'll be there, but I'll mention that again in the invite to follow, along with directions.
Originals for auction on Ebay...
I thought, by way of a little experiment, that I would put a few drawings on Ebay. They're all small pieces at the moment - the ones I have so far are all 3x4.5 inches - so as to be able to start them at a low price. If it works I may make a habit of it... if no one buys then I shall take the hint! Anyway, I have four finished at the moment, two are up just now, ending 26th October, and the other two will follow shortly - probably before the first two are ended...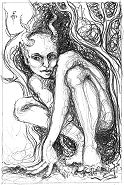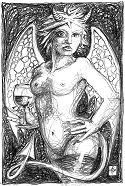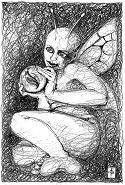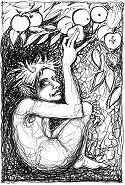 From left to right:
'Wood Creature' click to see auction
'Proud Devil' click to see auction
'Found a Marble' (auctioning next week)
'Stealing Marbles' (auctioning next week)
T-shirts, mugs, mousemats...
Now here's another little experiment - I've opened a 'shop' within CafePress.com, with a little selection of things with my pictures on them. It's a neat idea - how it works is this: I upload the images, pick what to put them on, and organize a little shop within their website. When someone orders things the stuff gets made up by the nice people at CafePress and sent straight from there... it means I can offer stuff that I wouldn't be able to deal with myself as I'd have to buy in hundreds of everything and there's all the problems of postage etc... Now - just when I thought it was too good an idea to be true - there is one little disadvantage: because it's being sent from the USA any order above £18 runs the risk of attracting import duty, and on top of that a surcharge put on by the carrier because they then had to go and get the package from customs, so please be warned!!. But nowadays you get a lot of dollars for your pounds, so sticking to below £18 is not as limiting as one might think...



Anyway, I've ordered some things to check the quality... which is when I remembered about the import duty.... and they all came out fine - the image on the t-shirt was particularly nice and sharp - you get a choice of heat transfer print or direct printing onto the t-shirt. Heat-transfer is a sharper image, but more plasticky - I've let people chose for themselves which they prefer. If anyone orders anything I'd love some feedback as of course I can't see what's being sent out all the time.
If you're in the USA of course there's none of the problems with the import duty... and if you're not and want to know what the exchange rate is, this website's very handy: www.xe.com/ucc/.
Fetishdollies
At last - a couple of pictures I can put up here! - Months ago I was asked by Scarlet Magazine for a series of Horoscope images featuring the dolls, and I've been plodding along with them ever since, but not able to display them anywhere. Well the first one (Libra) is now out and published and the second one (Scorpio) out soon. So it seems about time they made it onto the website and newsletter. The ones below are not in fact the ones that the magazine chose, but part of the same 'photoshoot'. They'll be appearing on the Fetishdollies site when I have a moment...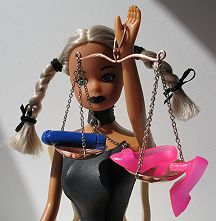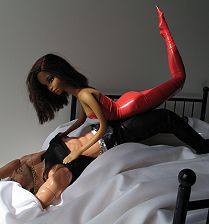 'Libra' and 'Scorpio'
Sneaky plug for a friend's site...
Gillian Farmer's 'Calm amongst the Chaos'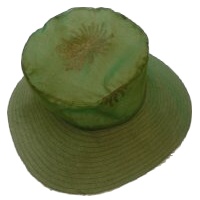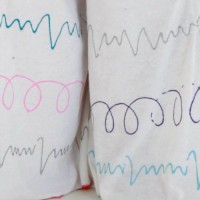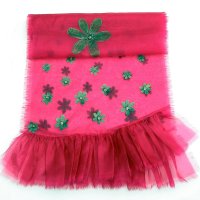 This handmade, English collection of Demi-Couture accessories is the creation of designer Gillian Farmer. So far as I know no-one's looked up the family tree to see if we're related, but the shared name was what brought us in contact in the first place, so it comes to the same thing in a way...
Anyway, you can see her new Autumn and Winter collection now at CalmAmongstTheChaos.co.uk, and there's a 10% discount on purchases made in in November if you join her mailing list in October.
Somerset Art Week
Thanks to everyone who came along... I always knew there was an art gallery in my house somewhere! If you're local to Somerset I have more exhibitions coming up - have a look at my exhibitions page.
Ebay
As well as the original drawings I'm still auctioning a few prints each week on ebay:
prints of my painted work or search for seller id nancy_farmer

That's all the news for now, but I'll be emailing invites to the Suffolk exhibition quite soon, just to remind anyone who happens to be nearby (sorry, I know some people who get this are half way round the world, but as I don't know half of who lives where I will simply have to invite everyone in the hope that some can make it. Anything else you'd like to know, do email me...
take care
Nancy
x
Nancy Farmer
Visit the Dolls website at www.fetishdollies.co.uk
Visit my Gallery of Paintings at www.nancyfarmer.net
All images © Nancy Farmer (unless otherwise stated), all rights reserved. Please email me if you wish to reproduce any of the images on this site